I was happy to recently partner with a great company in Saratoga Springs, NY called Upside Over that shares a lot of same goals and values I do, here at CampingBlogger. The company focuses on inspiring families to get their kids involved in outdoor adventures, with top quality gear targeted at the 0 to 12 year old age group. Can't find a harness for your little rock climber at the local outdoor store? Upside Over has you covered. Along with helmets, shoes and chalk bags – all designed specifically for kids.
Upside Over offers free shipping on all orders over $45 (except bike trailers, which require special shipping) and no sales tax for out-of-state residents. That's a direct 8.25% savings, for me. In celebration of Upside Over coming on board here at CampingBlogger, here are a few items that Santa has been looking at, this year.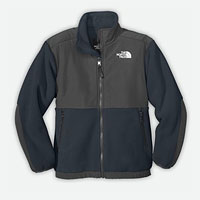 Fleece is always great for the woods and for school, and the North Face® Denali jacket is one of the best, with reinforced elbows and shoulders. The 300-series fleece is the heaviest that Polartec® makes, in this class, so the jacket provides a lot of insulation for winter use. The full zipper is a lot easier to deal with, for the kids, than a pullover. It is also available in a hoodie version.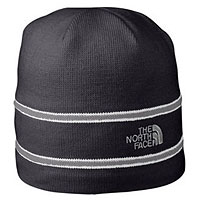 these uber-cool North Face Logo Beanies have been popular with the adult crowd for years, but they are also available in kids sizes. A knit hat is still the best way to ward off frosty ears in the winter, and when you add the fleece lining of the North Face version, it is really comfortable, too.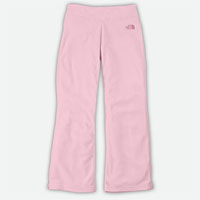 Our youngest daughter has a pair of the North Face Glacier Pants and I think she would live in them if we didn't make here wear something else, once in awhile, so that we can wash them! These are light-weight pants, with 100-series PolarTec (vs. the 300-series in the Denali jacket), so they are more suitable for spring and summer use, than winter.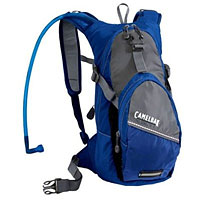 CamelBak makes a M.U.L.E. for kids? They sure do, only it's sized just right for kids with a 1.5L water capacity (the full size M.U.L.E. is 3L) and still plenty of room for a lunch. I've had my M.U.L.E. for almost 5 years now and it has been all over the country, from Southern Virginia to the California Desert. They are really well constructed and I'm impressed that mine has not even faded.
I hope you will take a few minutes to visit Upside Over and checkout some of the great products that they have for kids. They are a great company, with good service and they've got a great attitude towards promoting outdoor recreation for the entire family.