There is a relatively new way to get into camping without spending a fortune on gear – rent it, instead. A few companies, like new sponsor Lowergear.com, can provide everything from the tent to a camp stove. Renting gear is their business, so the process is pretty simple. Just select the gear you need, choose a time-period for the rental, and tell them where to send it.
For new campers or even experienced campers who are going on a specialized trip, renting gear makes a lot of sense. It's pretty hard to judge camping gear until you get it out in the woods, but getting it out there means that you've already paid for it. Renting the gear instead, takes all the risk out of trying new gear. You can still buy a lot of your gear on Craigslist to save money, but if you rent first you will know exactly what to look for (and maybe what to avoid).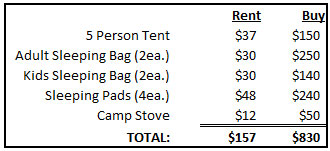 You can equip a family of four with basic camping gear for $157, at the three-day rental rate. That means you would have to camp five times before you started to justify the cost of buying (new) the gear, outright.
Renting also makes sense for special situations where your existing gear might be inadequate. Maybe the grandkids are joining you during summer break and you need a larger tent, or maybe you have an outing planned with some friends and just need a bigger camp stove for the weekend. Renting, as opposed to buying, lets you address these needs without ending up with a garage full of stuff you don't use very often.
I like the idea of renting gear, particularly for families wanting to tryout camping. It's a great way to get familiar with the gear and find out what works for you.
See also…