Sometimes Christmas comes twice a year. I was cleaning out the garage last month and getting my gear in order, when what to my wondering eyes should appear, but a brand new hammock from Trek Light Gear! I had forgotten all about buying these – I gave away several of them last summer, one in a contest and another to the 1,000th reader comment, here on CampingBlogger. Obviously I kept one for myself, and proceeded to forget all about it, until stumbling across the hammock six month later.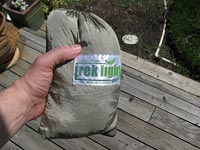 Like a kid with a new toy, all further thoughts of spring cleaning went immediately out the window, as I proceeded to checkout my new-found hammock. The Trek Light Gear hammock is made out of a nylon that reminds me a lot of the parachute material we used in the Army. It's extremely tough and does not stretch, but it's also really light weight. The hammock is ten feet long and five feet wide, yet it only weighs sixteen ounces. That's light enough to keep in my daypack, where it will make a great ground cover for lunch breaks on hikes, when not serving its primary purpose.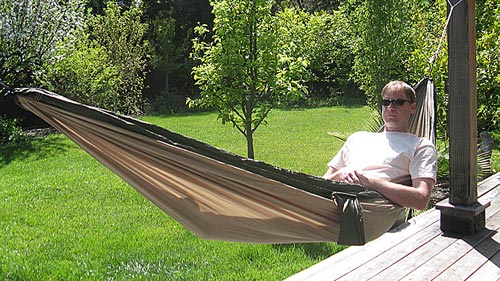 The best part about the Trek Light Gear hammock is that you lay down in it, instead of on it like the traditional hammocks most of us are used to. There is no sense of tipping and balance isn't an issue at all, because your body weight is lower than the attachment points, on each end of the hammock.
I had a lot of fun with the Trek Light Gear hammock, over the weekend and I'm looking forward to using it on our next camping trip – if I can get the kids out of it.
See Also…