They tempt you with pictures of happy campers, laughing and enjoying their new camping gadget that promises comfort and performance at an unbelievable price. It would be easy to blame a naive consumer for squandering their hard-earned money on this junk, but unfortunately a lot of it comes from name-brand companies.
Cheap Air Mattresses
These are really tempting, particularly if you are trying to convince your spouse that a night in the tent really can be just as comfortable as their favorite bed at home. After all, for less than $30, what's the worst that could happen? The worst that can happen is that you and your spouse wake up on the ground, with only a flat piece of cheap PVC plastic between you and the hard surface. If your spouse was suspicious of camping before, they're absolutely convinced, now. Here are some actual reviews of these "value" products:
I purchased this product and returned it 5 times for a replacement and every time it was the same thing….after a few days of sleeping on this mattress it would leak air. After inflating the mattress each night the air will slowly leak out and become flat by the time you wake up.
This air bed is horrible!! My husband and I woke at least 3 times every night we were camping to air it back up.
Thin material, no patch kit included. I think that says it all, I don't expect this to last. It will be okay for company at the house but its too thin to expect it to survive camping trips.
Folding Picnic Tables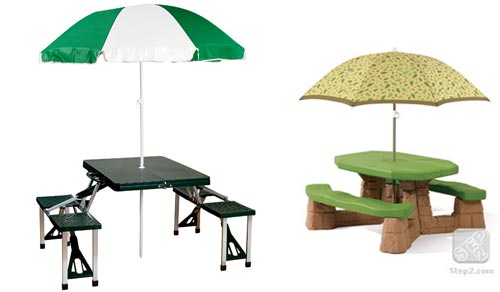 These actually look like a great idea, if you are car camping in the backcountry outside of established campgrounds. As with many of these products, the pictures can be deceiving, however. The table surface measures just 3-feet long by 2-feet wide which, if you have kids, is about the same size as their toy picnic table. Almost. The Step2 Naturally Playful Table with Umbrella (the one on the right, if you are wondering) is actually 44-inches long by 26-inches wide. Of course, size isn't the only thing that matters, when it comes to camping gear – here are some actual reviews:
Got the table out of the box, set it up, sat down and it broke immediately in two places.
This table collapsed on its first outing. Nobody sitting at it was more than 150 lbs and yet the plastic supports under the seats all buckled. This is dangerous.
I read the reviews before I bought it but thought I would give it a chance. Please DO NOT buy this for adults. It may hold children but definitely NOT adults.
Cheap Aluminum Griddles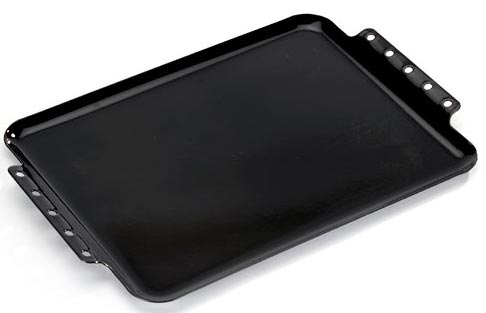 There's a reason Hop Sing cooked with a cast iron pot, in the old Bonanza TV series. Campfires get hot and a thin piece of aluminum won't disperse the heat and cook your food evenly, like a heavy slab of cast iron will. To make matters worse, these cheap griddles have an anti-stick coating applied to them. These coatings scratch off easily and end up in your food – yuck!
I was very disappointed with this grill. I liked the fact that it was enamel, but the underlying metal was so cheap the grill warped the first time I used it.
First use the non-stick coating started coming off the aluminum base. Guess it really is a non-stick coating.
Have had two of these griddles. They warped easily.
See also…