Like most outdoor recreational activities, camping is one of those things that seems to draw the snake oil salesmen out of the wood, or probably cubicle, every time you turn around. I've never seen any of this stuff in the woods, so I'm not sure who they're selling it too, but these are all actual products so someone must be buying them.
Why don't we just start letting McDonalds setup shop in our parks? Seriously, how intricate does your camp kitchen have to be before you start wanting a deep fryer to round it out?
Camp Chef® Outdoor Camp Oven and Range
I suppose you can't have deep fried Tempura at the campsite and not follow it up with a batch of fresh baked cookies or a nice Bundt Cake, but for the price of a decent family tent, you could! I'm not sure why anyone would want too, but you could.
The manufacturer claims that it inflates and deflates in less than 90 seconds, but I bet it would deflate a lot faster than that if you throw a pitch-log on the fire.
Winlow Products™ Funky Colored Flames™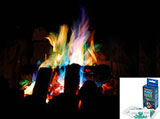 Okay, I can understand the novelty of this, but when a manufacturer says that a product is "Safe for use in indoor or outdoor wood fireplaces; not for use in cooking fires" it makes me wonder. I mean, even if I'm not roasting marshmallows, I'm still breathing some of the smoke.
I couldn't even find the manufacturer of this little jewel, so the link is actually to Target®, who sells this for $24.99. Imagine, an entire generation could grow-up thinking they can't roast marshmallows if their batteries run down.One word, kid: "stick."
Now, I'd be the last guy in the world to tell you that if you're actually using any of these products, then you're not really camping. And I sure wouldn't turn down a nice piece of Bundt Cake if it was offered, either. Maybe, though, if you find yourself trying to take it all with you when you go to the woods, you could step back for a minute and reconsider what camping is all about.
See also…