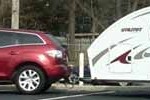 Teardrop trailers are popular for their vintage appeal and easy-to-tow diminutive proportions, but there is a new crop of teardrops that are pushing the boundaries of utility to new limits. The Utilitoy is part camper, part toy hauler – perfect for outdoor families on the go.
The bottom-line on any kind of camping shelter, whether a tent or an RV, are the number of sleeping areas. It doesn't make any sense to invest in a tent, or a camp trailer, if it will not accommodate everyone in your family. The Utilitoy features a rear queen mattress, along with a full-size mattress for the front of the compartment, which makes it one of the best teardrop-style trailers I have seen for families.
The Utilitoy has some smart design features that make it suitable for backcountry camping, too. Maybe most importantly, the interior can be hosed-out! The Utilitoy is as much a cargo hauler as it is a camping trailer, so the 10' by 6.5' interior bay is completely waterproof.
Another feature that I find particularly useful on the Utilitoy is a translucent roof. This keeps the interior from feeling dark and claustrophobic – and it reduces the need for running interior lights. This is important when you are camping away from electrical power and relying on batteries.

All of these family-friendly features would be for naught, if the Utilitoy could not be towed by vehicles a family already owns. "One of our major accomplishments on this project was to create a trailer that anyone would feel comfortable towing." Says Scott Williams, President of Utilitoy.
A well-optioned Utilitoy weighs-in at less than 1,050 pounds with a tongue-weight of just 80 pounds, which certainly makes it easily towable by most family vehicles. Our family car, for instance (a 2006 Suzuki XL-7), has a tow rating of 3,000 pounds which is typical of many smaller vehicles.
The Utilitoy is also a cargo hauler, though, so that 1,050 pounds still leaves plenty of room for dirt bikes or a watercraft, without pushing the limits of most vehicle's towing capacities. It is also sized to fit in most driveways and garages, at 14.5' long (a bit shorter than our Suzuki) with a width and height of seven feet.
Storage is not cheap, which is one reason that pop-up tent trailers are so popular with families. A hardside trailer, like the Utilitoy, that can be easily stored at home is a real plus. In fact, I could store our tent in the Utilitoy, which would free-up room in our closet (an inside joke – you can see a picture of my closet here).
I am encouraged that more RV manufacturers, like Utilitoy, are placing more emphasis on family camping, with more beds and more family-friendly features. Because it is both a camper and a cargo hauler,tThe Utilitoy provides a lot of return for the investment ($7,455-$9,200 depending on options) and yet it is small enough to be towed behind most family vehicles.
See also…