Coyote Lake – Harvey Bear Ranch County Park was created in 2005 when the Santa Clara County Parks and Recreation Department struck a deal with the Harvey Bear family to preserve the families land as a multi-use park and additional greenbelt in the Santa Clara Valley, just south of San Jose.
My hiking partner for this trip was my 9-year old daughter, Chloe. When it is 60 degrees and sunny outside, on December 24, we just did not see any good reason not to take advantage of the weather and get some hiking in. This was our first time at Harvey Bear Ranch and we wanted to see how it compared to nearby Henry Coe State Park, which is our regular stomping ground.
From the Harvey Bear Ranch parking lot, at about 400 feet of elevation, we picked the Willow Springs Trail that meanders up and over the hillside to the Coyote Ridge Trail, with views of Coyote Lake. It is 1.6 miles to the top of the ridge, with an altitude of about 1,100 feet. The trails are all double-track and well suited for hiking, mountain biking and horseback riding. As this is still working rangeland for cattle, there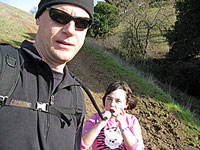 are a number of gates to negotiate, throughout the park.
Gaining 700-feet of elevation in just over a mile and a half is a good workout, so it is essential to pack plenty of water, even on these cool winter days. Chloe may love pink and be a huge Webkinz™ fan, but at nine years old, she can knock-off five or six miles with nary a peep.
The view from the top of the Willow Springs Trail gives you a good perspective on the terrain. Harvey Bear Ranch is comprised of rolling hills with only sporadic outcroppings of oak and buckeye trees. These hills are dry and brown most of the year and the open terrain would be harsh in the summer, when the southern Santa Clara Valley can hit triple-digit temperatures. Henry Coe State Park, which adjoins Harvey Bear Ranch to the north, is much more densely forested.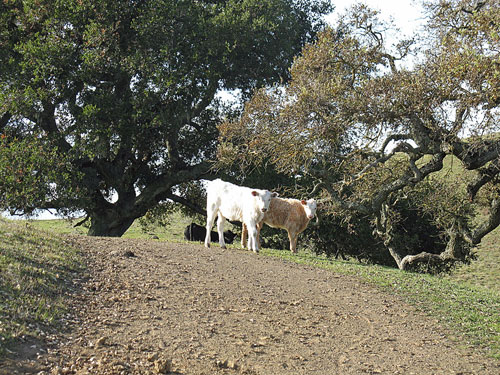 You will come across plenty of the local inhabitants throughout the park and, other than their apparent preference of doing their "business" on the nice, level trails, they are rather shy and will not let you get too close, before moving away at a brisk pace (much to the chagrin of my daughter, who wanted to pet them).
The reward for cresting the 1,100-foot ridgeline is the three-mile long Coyote Lake, which is a popular waterskiing, sailing and jet ski destination. There are also 74 campsites located along the lake, which is unique among Bay Area lakes and reservoirs.
See also…