Online travel site Tripbase is putting together a project on "Best Kept Travel Secrets" and has asked me to contribute something from a family camping perspective. This sounds like it's going to be a really great resource, as I'm just one of over a hundred sources contributing to the effort. I'll be sure to give everyone a heads-up when they publish the series.
Many parents we have met feel a bit overwhelmed at the thought of spending a weekend in the backcountry with their kids. Camping with kids is a great way for families to spend time together and have fun in a different kind of setting, which helps keep the experience interesting for everyone. Here are three of my secrets to camping with kids.
Choose a Family Campground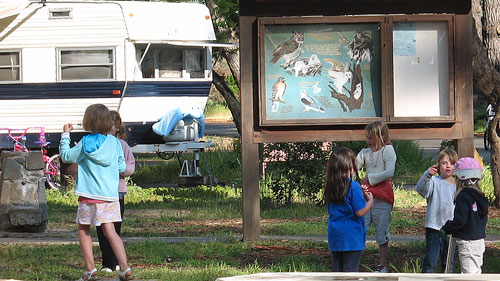 There is nothing more fun for kids than…other kids! We go camping primarily in state and county parks, which are popular destinations for families on a budget, who are looking to get away for the weekend. Once we setup our campsite, a quick stroll or bike ride through the campground always turns-up other families with similarly aged kids, which is usually all it takes for new friendships to blossom.
This is particularly true of holidays, when many families plan camping trips in order to take advantage of a three-day weekend. Packing a few extra drinks and snacks can keep the playtime going, just be sure to check with the other parents, first. Whether the kids are playing at our campsite, or their friend's site, we exchange information with the parents and keep an eye on our kids to ensure that they're not breaking any of our camping rules:
Stay out of other campsites
No loud playing
Stay within eyesight of adult supervision
Keep to Familiar Bedtime Rituals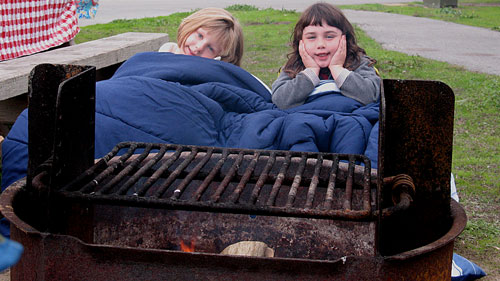 Let's face it, there are a lot of unfamiliar new sights and sounds in a campsite at night, which can make bedtime a challenge when camping with kids. The best way to deal with bedtime is to make things as normal as possible.
If you usually read a book to your kids before bedtime, this is still something that you can easily do when camping. Likewise, if your children have special pillows or blankets that they are used to, there is no reason that these familiar objects can't be a part of their camping experience.
One area that might deviate heavily from the norm, when camping, is snacks and this can have a big impact on getting the kids to settle in for the night. Campfire s'mores are a big tradition in our family, but we have learned that we need to limit these sugary snacks, and have them early enough in the evening to not impact bedtime.
Encourage Children to Participate in Campsite Activities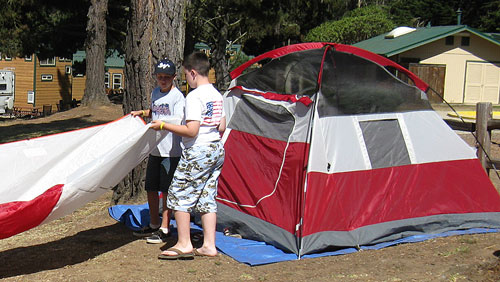 Our early family camping experiences were probably indicative of how many parents handle the camping experience. We would park the car, and the kids would run off and play while we found a spot for the tent, setup the tent and arranged the rest of the campsite. We quickly learned the benefits of involving the kids in all of these activities, though, which has proven to be an enriching experience for all of us.
Involving kids in traditional adult activities, like building a fire or setting up the tent, is a rewarding experience that teaches responsibility and valuable outdoor skills. Kids are happy to participate if we just give them the chance, and it helps them feel much more involved with the family camping experience.
Your Kids Deserve an Outdoor Experience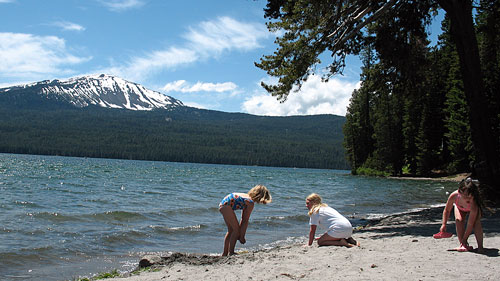 Family camping with kids is a great way to experience the outdoors together and it's the best way for your kids to develop an appreciation for nature. You can reduce your anxiety about spending a weekend in the backcountry by selecting a family-oriented campground, following typical bedtime practices that the kids are familiar with, and encouraging kids to participate in camping activities. Follow these three family camping "secrets" and your next family camping adventure is sure to be a success!
See also…