The State Park Service in South Carolina has a great deal going on, in April, for families interested in finding out more about camping. The Sesqui Great American Backyard Campout occurs on April 25th and 26th, at Sesquicentennial State Park, just outside Columbia.
The event is really geared towards families with little or no prior camping experience. The park service plans to have a ranger on-hand for every five or six families, and even tents can be provided, for those who do not have their own gear. A full slate of activites are planned throughout the day, including hikes, interpretive programs, camp cooking and camping skills classes. The registration fee is $25 per family, and a maximum of 35 families will be selected.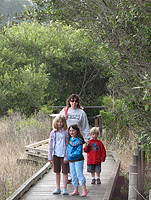 This is a real proactive event that the South Carolina Park Service is undertaking, particularly in light of the current state of the economy, that has many families looking to substitute destination vacations with cheaper camping vacations, this year. The thought of spending a week in the woods can be daunting for those with no previous outdoor experience, but quality programs like this can show parents that you don't have to be Les Stroud (CampingBlogger FAQ: Les Stroud wears a Tissot T-Touch watch) to have a great time in the backcountry.
Sesquicentennial isn't the only state park in South Carolina  that has their act together. I heard from a friend on Monday that Kings Mountain State Park, outside of Blacksburg, is "clean, well kept, great playground for the kiddo" and, get this, they're giving classes on dutch oven cooking! You can checkout Jonna's full review here.
I hope other states look to South Carolina for ideas on how to get families out of the house and into the woods this summer. And all you Gamecocks be sure to share your new dutch oven recipes with us, okay?
See also…