When I started looking at dutch ovens this year, I had no idea there were so many different kinds. Flat bottoms, bottoms with legs, bail handles, and lids that double as frying pans – there was certainly more to these aluminum or cast iron pots than I expected.
Dutch ovens are the original crockpots. Like a crockpot, you can throw just about anything in a dutch oven and it will come out tasting great. For camping, a dutch oven can be used for all three meals. In fact, we're looking forward to breaking ours in with one of our kid's favorite breakfast treats: German Pancakes. I'm expecting them to taste even better in the backcountry than they do at home!
Camp Dutch Oven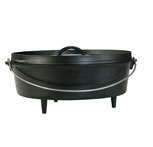 Camp dutch ovens are easily distinguished by their stubby legs and flat lids with a raised flange around the edge. The legs allow air circulation underneath the camp dutch oven, when it is sitting in coals. The raised flange around the edge of the lid keeps coals from sliding off.
Traditional Dutch Oven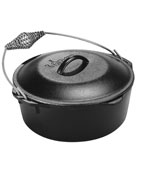 A traditional dutch oven has a flat bottom with a domed basting lid. With their flat bottoms, traditional dutch ovens are made more for stove tops and campfire grates, then for sitting on coals.
There are many variations on these two themes. Not all dutch ovens have wire bail handles, but if you are interested in tripod cooking over an open fire, this will be an essential feature to look for.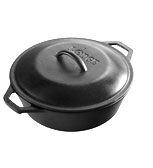 The dutch oven that we selected (for you, too – we're giving away two of these in April!) is a variation on the traditional theme. It has loop handles which make it easier to carry than a wire bail. You have to remember that these are a bit heavier than your kitchen pots and pans – this one tips the scales at close to 20lbs.
All of our cooking is on camp stoves or wood fires, so a traditional smooth-bottomed dutch oven made more sense for us. Because we use a camps stove, the size of the dutch oven was also an important consideration. Too wide, and there isn't enough room left on the stove for another pot, or frying pan and, suddenly, the two-burner camp stove is effectively a single-burner. We selected a 5qt. model that is 10 ¼ inches wide.
We are looking forward to putting our new dutch oven to good use and hope to share some of our favorite recipes with you. Stay tuned!
See also…