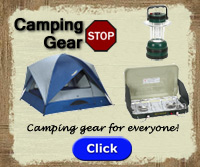 I'd like to welcome new sponsor Camping Gear Stop, located in the heart of prime Missouri camping country, in Potosi. They carry a wide variety of brand name camping gear and are a one-stop-shop for families looking to get into camping this summer.
The thing I like about Camping Gear Stop is that they focus on the family camper and they're built around customer service. It's the little things like free shipping, actual inventory, and a telephone answered by a real person that is a breath of fresh air, these days.
If you're planning on taking your family camping this summer, let Camping Gear Stop hook you up with the right gear. They'll take good care of you, so that you can focus on finding that perfect camping site.