There is no rule that says you have to have a camp stove when you go camping. People have been cooking over fire for thousands of years, but there are some things to look out for when choosing cookware for campfire cooking.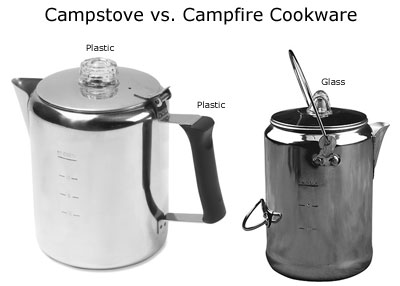 Campfire cooking and plastic materials don't mix very well. Whereas a stove burner concentrates heat underneath a pot or pan, campfires tend to be much wider which allows more heat to travel up the sides of the cookware, turning plastic-insulated handles into mush.
Non-stick coatings also tend to be a problem when camping. It's not so much the coatings themselves, but the plastic and rubber utensils that you have to use with them, so that you don't scrape-off and scratch the coating. It takes a lot of heat to melt metal spoons and spatulas! Metal spatulas are also still the best tool for cleaning a cooking grate.
Campfire cooking is a lot of fun and it really isn't much different than cooking over a stove. You can start small by just cooking corn, baked potatoes or baked apples, which don't require any cookware at all – just aluminum foil.
See also…