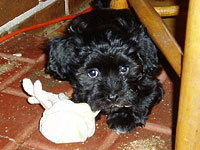 We started camping with the family pet last summer, when the kids got a Fire Bellied Toad for one of their birthdays. While Fire Bellied Toads are about as easy as it gets, when it comes to pets and camping, we finally bowed to a relentless onslaught of kid-induced pressure and are adding a puppy to the family next week.
Hitting the backcountry with a dog is an entirely different situation and carries with it a completely new set of responsibilities. For one thing, getting a puppy has scrubbed one of our camping trips that we had planned for the first weekend in May. We found out that taking puppies under 16 to 20 weeks into an environment like a campground is dangerous, due to parvovirus.
Once the puppy is old enough for camping, though, we will have to figure out the best way to do that. Our current plan is to take a crate for the dog to sleep in, but there are a lot of other issues, too. For one thing, we will no long be able to just take-off on a hike, without taking the dog with us of course. That means a leash and a water bowl, and probably some other items that I haven't even considered yet. All of a sudden, "hiking" is sounding a lot more like walking the dog, than hiking.
The kids are going to love camping with a dog, though, so I guess a few sacrifices are worth the effort if it keeps them interested in the outdoors. I have a feeling that the kids are going to learn some valuable life-long lessons about responsibility and work ethic out of this, because I'm sure not doing all the work!
See also…