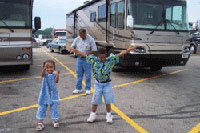 Despite the current economic downturn and a general reluctance of financial institutions to lending money, RV's are actually pretty hot right now. Loans are cheap (if you qualify), prices are low, and strapped dealers (and private owners) are looking to make a deal. But does that mean you should run out and buy an RV? It's not a decision that should be taken lightly and here are a few considerations you should make, before pulling the trigger.
How much will you use an RV?
An extra $250 to $500 payment each month is bad enough, but if you're not getting any benefit from it, it's even worse. You can rent a motorhome for around $1,000 a week, and that is a great way to go if you are only going to use it a few times each year. Let someone else pay for the oil changes and the new tires.
How will the RV layout work in five years?
When the kids are little, it's easy to find an RV (pop-up, trailer, motorhome) with adequate room and sleeping space, but will the kids still fit in that fold-down dinette bed when they are teenagers? It's important to plan for the future, particularly if you are buying new, since you might still be upside down on the loan vs. resale value in five years.
Where will you keep an RV?
If you cannot store an RV at your home, you are looking at another $150 to $300 every month to store it somewhere. In addition to the extra expense (who makes money on RV's and boats? Storage facilities!), storing an RV away from your home is extremely inconvenient when you are trying to get away on a Friday Night, for a weekend of camping.
If you are looking at trailers, plan on a new tow vehicle.
This happens a lot – you buy a new trailer that promises to tow just fine behind your current family vehicle, but after you use it a few times you find out that it is not going to work. You can't take the trailer back, so now it's another $300 to $500 a month for a proper tow vehicle, on top of the trailer payment and the monthly storage fee.
Will camping in an RV still feel like camping?
We don't really head out into the backcountry to watch TV and sleep in a regular bed. For many people, camping is synonymous with tents, sleeping bags, and campfires. You might find out that camping in an RV doesn't scratch the same itch as camping in a tent.
See also…