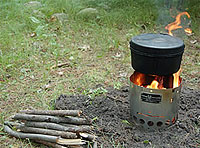 If you did a lot of camping as a kid, like I did, then you probably are very familiar with the Esbit® solid fuel tablet (hexamine tablets) stove. Esbit stoves were cheap, simple to use, and did a fair job of heating a canteen cup of hot chocolate, or soup.
Esbit stoves are still around, but now you can take simplicity even further with a new crop of wood burning camp stoves. A wood burning camp stove offers some obvious advantages for backpackers, since they no longer have to pack fuel. All of these stoves can use just about any combustible material, from pinecones, to sticks, twigs, and branches.
The best part about all of these stoves is that they work! Some, like the Sierra and the Woodgas, use a battery-powered fan to help the fire burn hotter, but numerous reviews indicate that even the non-powered stoves will boil a quart of water in 5 or 6 minutes.
See also…