This is a guest post by Thomas Neton. If you would like to guest post on CampingBlogger, please see the guest posting page for more information.
My son and I camp regularly. He's a Boy Scout, so he's a big help setting up our site and camping equipment . One of our favorite spots is El Capitan state beach, just north of Santa Barbara on the California coast.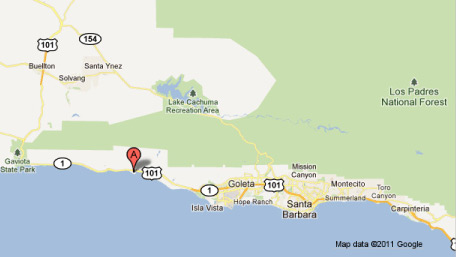 If you're coming from LA or farther south, try to leave during the middle of the day or on the weekend. Downtown LA's famous rush hour traffic is pretty brutal and can add an hour to your trip. It take us about two hours to get up there from Long Beach with no traffic.
The campground is up on a bluff with a fantastic beach below. At the far north end of the beach is a freshwater creek that runs into tidepools at the ocean's edge. We've camped there in spring and summer, but in spring there are tadpoles in the creek – hours of kid fun! There are many forms of marine life for kids to see and experience. Bring your bikes because there are miles of roads and bike paths on the beach and in the campground that kids can enjoy.
The campground is very clean and well kept. The camp hosts are a married couple who keep a sharp eye on the campground while maintaining a friendly atmosphere. The majority of campers are families, and everybody has been very friendly every time we go.
One thing to watch for on the beach is naturally occurring tar that sometimes washes up on the shore. The occasional tarball can be cleaned up by the small wipes sold at the campground's store. The store itself is very sparse, so make sure you bring all your supplies. The closest town is about 10 miles south of El Capitan, so a supply run can take over an hour roundtrip. They do have a small coffee shop in town, though.
The sunsets are absolutely beautiful here. And here's the insider tip: some sites offer nice views, but sites 82-84 offer ocean front views. Reservations are made through Reserve America 7 months in advance. If you time it right, you can get a prime site. Also, you can check back periodically during the current month- sometimes there are cancellations.