If you haven't made plans to camp at one of the national parks, this summer, you might be thinking that it's too late to get organized and make reservations. This is likely the case, if you try to make all of your own plans, but there is another way to make this happen and that is with a travel consultant, like Tracks & Trails.
A travel consultant works much like a travel agent, but in this case we're talking about a lot more than just airplane tickets and hotel reservations. You tell your Tracks & Trails consultant where you want to go and whether you want to camp in an RV or a tent, and they make all of the hotel and campground reservations, hook you up with an RV or SUV and provide you with a complete itinerary and trip portfolio of things to see and do.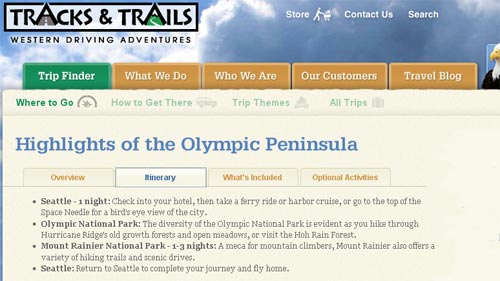 Can you do all of this yourself? Sure you can, but it's already May so time is short – and unless you have a lot of local connections or experience in the park, it is going to take time to research the best campgrounds and things to see. Also, assuming the national park that you are interested in is more than a day's journey by car, a significant portion of your vacation will be spent on a highway.
For instance, we have some friends that want to visit the Olympic National Forest, this summer. That is a 900-mile trip that, realistically, is going take two days of driving – each way. That is nearly one-third of a fourteen day vacation spent on the road! With a Tracks & Trails Olympic Peninsula vacation (7 to 10 nights, from $3,375), you fly into Seattle and they put you up in a hotel, the first night. They drop off your fully-equipped RV in the morning and you're off to Olympic National Park and Mount Rainier National Park, with all of your campground reservations. At the end of your vacation, simply drop off the RV back in Seattle and fly home.
Even with the addition of airfare for four, this makes a lot of sense. Renting a Class C RV is about $150 per day, so even if you drove the 1,800 mile roundtrip journey, you would still be paying $600 in extra rental fees. Add in another $600 for gasoline and those airline tickets are looking better all the time! The real benefit, though, is the extra four days in the national park, and not on the highway.
Tracks & Trails offers vacation packages for all of the great western parks, including Canada.
See also…