The ice chest is one of the core pieces of camping gear, at least if you are car camping, and they are really useful for other family functions, too, which makes them a good buy even if you don't camp a lot. Ice chest are also really durable. Ours has weathered over ten years of camping, birthday parties, family cookouts and picnics, along with three moves.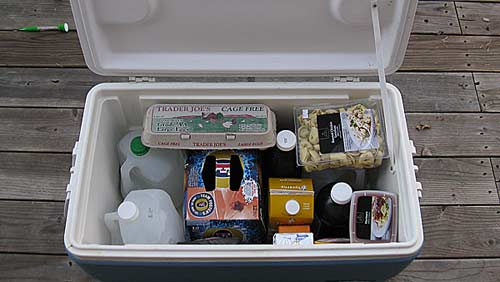 Ice chests come in all shapes and sizes and while it might seem beneficial to go with the largest one you can find, there are advantages to sticking with smaller ones, or even two smaller ones. Ice is heavy – our 70-quart ice chest takes over 25 lbs. of block ice to keep it cold over the weekend. A good rule-of-thumb is that 20 to 30 percent of an ice chest's capacity should be devoted to ice, and at roughly seven pounds per gallon, that adds up quick.
Another advantage of the smaller ice chests is that they are just easier to fit into your car or SUV. Our 70-quart model is challenging enough, at 30-inches long and 16-inches wide. A 120-quart model from the same manufacturer is a trunk-busting 38-inches long and 18-inches wide (and a few inches taller). Add 40-pounds of ice (20% of 120 quarts is 6 gallons, at 7lbs. each) and it quickly becomes a multi-person operation to get it into and out of the car.
For these reasons, I will focus on high-end (those rated for 5 or 6 day use) ice chests in the 50 to 70 quart capacity range.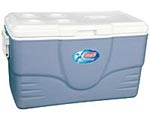 Coleman Xtreme® 5
Price: $79.99
Size: 31.5"L x 18.25"W x 16"H
Interior: 24″L x 9.75″W x 12.75"H
Weight: 13.5 lbs.
Capacity: 70 Qts.
www.coleman.com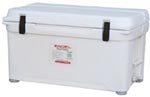 Engel DeepBlue™ Ice Chest
Price: $279
Size: 29.8"L x 16.75"W x 16.5"H
Interior: 23.5"L x 11"W x 11.5"H
Weight: 28 lbs.
Capacity: 65 Qt.
www.engel-usa.com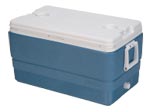 Igloo MaxCold® 70
Price: $83.99
Size: 29.5″L x 16.31″W x 15.69″H
Interior: 23.25"L x 11.50"W x 12.75"H
Weight: 11.4 lbs.
Capacity: 70 Qt.
www.igloocoolers.com

Yeti® Coolers Tundra
Price: $329.99
Size: 30.5"L x 17.13"W x 16.25"H
Interior: 24.38"L x 12"W x 12"H
Weight: 27 lbs.
Capacity: 65 Qt.
www.yeticoolers.com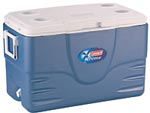 Coleman Xtreme® 5
Price: $54.99
Size: 27.75″L x 14.95″W x 17.25″H
Interior: 20.5″L x 8.75″W x 12.25″H
Weight: 12.9 lbs.
Capacity: 52 Qt.
www.coleman.com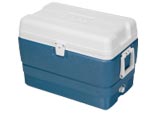 Igloo MaxCold® 50
Price: $65.99
Size: 25.5"L x 15.25"W x 17.38"H
Interior: 18.81"L x 10"W x 11.5"H
Weight: 11.3 lbs.
Capacity: 50 Qt.
www.igloocoolers.com

Coleman Xtreme® 6 Wheeled
Price: $94.99
Size: 31.50″L x 16.13″W x 18.25″H
Interior: 16″L x 8.5″W x 12″H
Weight: 15.3 lbs.
Capacity: 50 Qt.
www.coleman.com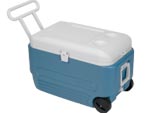 Igloo MaxCold® 60 Roller
Price: $79.99
Size: 28"L x 16.13"W x 17.56"H
Interior: 22"L x 10.25"W x 13.25"H
Weight: 14.8 lbs.
Capacity: 60 Qt.
www.igloocoolers.com

Rubbermaid® Wheeled Cooler
Price: $48
Size: 23.38″L x 15.25″W x 19.00″H
Interior: not specified
Weight: 14.25 lbs.
Capacity: 50 Qt.
www.rubbermaid.com
See also…