Many of us grew up camping with our families and have some great childhood memories of what camping is all about. Family camping is enjoying a resurgence in popularity, as boomers castoff the excesses of the past twenty years and look towards simpler and more fulfilling family summer vacations.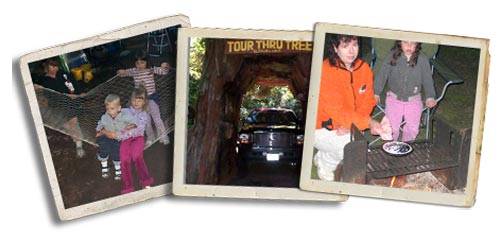 New friends. Whether you are 6 or 60, there is no surer way to meet new people and make new friends than to camp at one of the popular family state or federal campgrounds in your area.
Unplugging. When is the last time your entire family unplugged for the weekend? There is something magical, in this day-and-age, about no phones, no computers, no video games and no TV. Help your family experience some of this magic, this summer!
Catching a first fish. Camping and fishing are two outdoors activities that go together like, well, camping and fishing! If your camping plans include a well-stocked lake, then you are in a great position to help your children experience one of life's great rites of passage – catching their first fish.
Campfires. You can sing songs, tell scary stories, or just laugh and roast marshmallows, but family time around the campfire is one memory that your kids are sure to cherish. One of my early childhood memories, that still sticks with me today, was driving away from a campground and my dad realizing that he forgot to water and stir the fire pit. "Don't worry dad," I told him, "I took care of it."
Snacks. Okay, so if your kids are like mine, snacks are nothing new. But camping snacks are something different, altogether! S'mores, trail mix and a cup of steaming hot chocolate around the campfire are all special camping experiences that hopefully our kids will pass on, someday.
Wildlife. Sure, it would be great to see a mountain lion or a bear, but even a deer or a banana slug can be exciting for the kids to see. Just remember, your best chance for spotting many animals, including dolphins and seals at the beach, is early in the morning.
Sleeping outside. It doesn't matter if you are camping at the beach or in the mountains, there is something magical about the night sounds and the vast expanse of stars that fill the sky.
Rain. One of my strongest camping memories, as a child, is drifting off to sleep listening to the sound of rain drops on the tent. Rain is not something that most of us look forward to, when we go camping, but the sound and the smell is definitely a rich outdoors experience.
Many of my most memorable camping experiences are from my childhood, but now that I have kids of my own, I am starting to see some of that same enthusiasm in them. Their experiences are now my new experiences and that is exciting, for this dad.
What are some of your most memorable camping experiences?
See also…