Depending on the age of your kids, there are a lot of outdoor adventure activities available to you that can really spice up a summer family camping vacation and make it one that everyone will remember. Many of these activities, like rock climbing or rafting, are more dependent on a child's ability and confidence, than age.
My oldest daughter has always been very adventurous and willing to try new things. She began climbing rock walls at six and she loves rollercoasters. My younger ones are much more comfortable just watching, even though they are all very close in age. When considering a family camping adventure, it's important to tailor the adventure to the entire family, so that everyone has a enjoyable experience.
Whitewater Rafting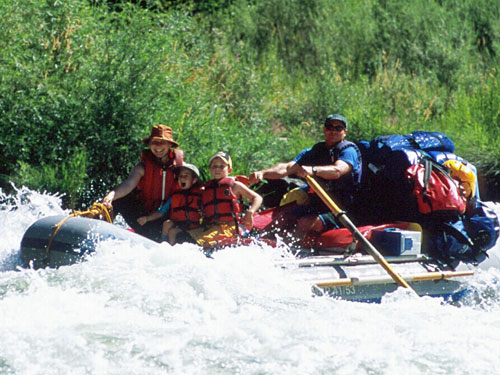 Whitewater rafting is available in many parts of the country and it's a great activity to combine with a family camping trip, because many of the rafting companies will handle the camping spot setup, meals and even games and activities, on rafting trips ranging from a few days to a week, or more.
If you are not familiar with whitewater rafting, you might be hesitant about taking children on an adventure, like this. This is a growing segment for rafting companies, though, and many have trips tailored specifically for families. They will recommend specific rivers, sections of rivers, or specific months when the water is slower, in order to provide a rafting experience that everyone will enjoy.
Jetboat Excursions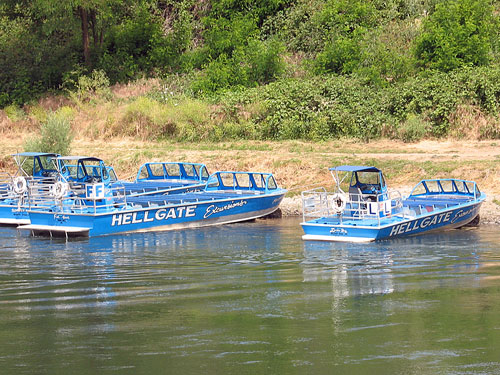 If whitewater rafting sounds a bit too adventurous, an afternoon jetboat excursion is another way to experience the thrills of a river, but in the safe confines of hard-sided boat.  A jetboat trip ranges from an hour to a half day, which makes it a great activity to spice-up a family camping vacation without centering the entire vacation on the adventure, itself.
Rock Climbing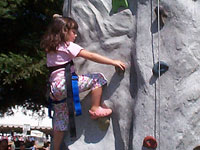 Kids love to climb and when they get to wear cool looking helmets and harnesses you just know it's an experience they'll carry with them, for years to come. There are a number of accredited climbing schools and guides that offer courses tailored to families. Like whitewater rafting, these professionals will match your family's skill-level to an area that will best suit everyone's ability. If you would like to read about one family's rock climbing adventure, checkout We Tried It: Rock Climbing, by Toni Klym McLellan (Bring the Family).
Mountain Biking
A mountain biking trip is a great way to mix family camping and outdoor adventure. Professional tour companies handle all of the camping gear and meals – and even a ride in the support vehicle if the day starts to get too strenuous. Companies like Western Spirit Cycling really cater to families by putting groups with similar-aged kids together and providing games, toys, arts and crafts to keep everyone entertained.
See also…