Much like any kind of traveling we did "pre-kids", camping used to be one of those spur-of-the-moment activities where we would throw some food and clothes into a bag and head for our favorite camping spot, on any given Friday afternoon. Oh how times change!
When we first started family camping with kids, we must have looked like the Beverly Hillbillies. Diaper bags, stroller, playpen – we had enough stuff to open a small daycare center! Over the years our gear has changed as our children have grown – our girls, who are now 8 and 9, are already "teenagers" (who is Justin Bieber, anyway?) and our 5-year old son is perfectly happy making war with "laser blaster" sticks.
If I had to do it over again, I'd really try to cut back on the amount of stuff that we packed for the kids when they were smaller. We always packed the playpen so that we would have somewhere safe for our son, at our camping spot, while we were unpacking or packing. As you might imagine, this did not sit well with our son, who quickly learned that screaming got him out of the playpen. Quickly.
Umbrella stroller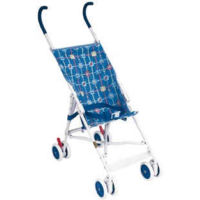 It doesn't look much like camping gear, but when it's time to sit down at the picnic table for a meal, a stroller is one of the easiest ways for your child to join the family. We had better strollers, of course, but the humble umbrella model could fit in our car with the rest of the family camping gear and was light enough to carry to the beach, or wherever else we were going.
Baby wipes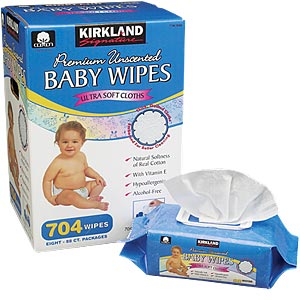 I know this kind of goes without saying, but I included wipes to remind you that you're likely to go through a lot more on a family camping trip than you would during a weekend at home. We always let our kids play in the dirt or the sand (as long as they weren't eating it) and these wipes are the quickest and easiest way to clean them up. They're also the quickest and easiest way to clean up sticky fingers and faces after an evening of campfire s'mores.
Dirt and sand toys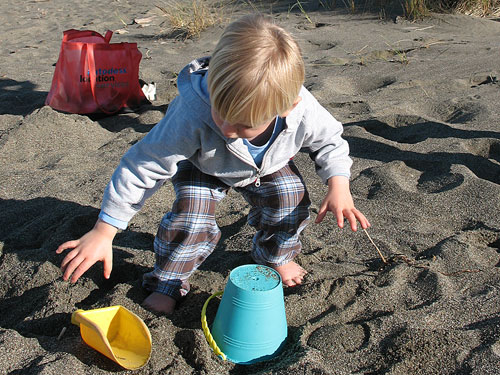 Our bag of dirt and sand toys is on its second generation and, without a doubt, it's been one of our best investments for camping with kids. The bag we use was actually a giveaway at some tradeshow conference that I attended, but it's just the right size for bulky buckets, scoop shovels and rakes.
Best of all, the big bag catches all the sand and dirt that's left on the toys, so that it doesn't get all over the family car. A big bag makes it easy to pack all the toys from the camping spot and, if we're playing at the beach, it doubles as a great bag for everyone's shoes and a towel, or two.
Kids Camp Chair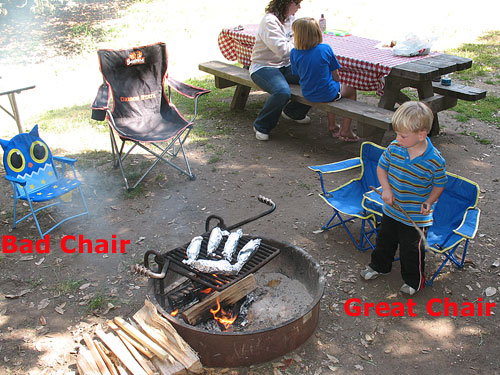 The stroller doesn't last forever and once your child starts to notice that everyone else is sitting in cool camping chairs, it's going to be time to spring for a kid-size version. The single most important consideration in camping chairs for kids is that they are low to the ground, which helps prevent tipping. The design of the legs is also important – we had a tremendous amount of problems with the "owl chair", in the picture above, tipping over and had to throw it away.
Camping Mat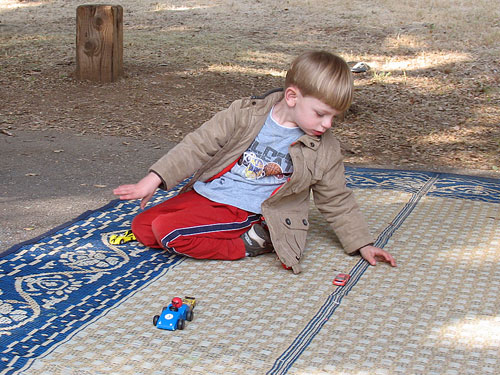 Popular with the RV crowd, these camping mats are great for giving kids a cleaner place to play, at your favorite camping spot. We got ours years ago, when we had a camping trailer, and we have used it ever since. It's made out of a woven plastic material and is very durable and easy to clean. We will often stretch out on the camping mat for a game of Uno, instead of sitting around the picnic table.
See also…