This is a guest post by freelance writer Leslie Douglas. If you would like to guest post on CampingBlogger, please see the About page for my contact information.
After being cooped up during a long, cold winter, everyone looks forward to the weather warming up to enjoy the outdoors again. But along with warmer weather come a variety of pests that can make a camping trip a painful, itchy experience – mosquitoes. Rather than try to deal with an itchy, irritable kid, I try to fend off the mosquitoes before they bite. Here are some of the products I've tried with great success.
OFF!® FamilyCare Repellent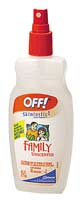 In existence for more than 50 years, OFF! is one of the best known brands of insect repellents on the market. The insect repelling substance in OFF! is a chemical called DEET. There has been some concern recently about the safety of using DEET on skin, but several health organizations including the American College of Physicians and the Centers for Disease Control and Prevention have deemed it to be safe for human use.
In addition, the brand has received the Good Housekeeping Seal of Approval. OFF! comes in several varieties, and is available in most drugstores and grocery stores. It is available in aerosol and non-aerosol varieties, and is great for stuffing in a backpack.
SKIN SO SOFT® Bug Guard Plus™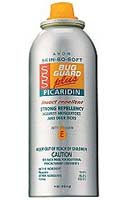 Another company with a long standing reputation for quality is Avon®. Their Skin So Soft (SSS) Bug Guard Plus is a favorite among outdoor lovers, and particularly moms. It's DEET-free, and is recommended by dermatologists and pediatricians as being safe for children, which is something I look for in products for my kids.
SSS has the added benefit of sun protection factor (SPF) 30, so it protects against sunburn as well as insects. It's available in a pleasantly scented, non-greasy lotion, an aerosol, and a non-aerosol pump spray, and repels mosquitoes for at least eight hours. SSS Bug Guard Plus can be purchased online or through your local Avon representative.
Burt's Bees® Herbal Insect Repellent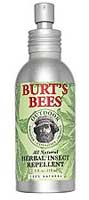 If you'd prefer to avoid chemicals, opt for a natural one like Burt's Bees Herbal Insect Repellent. The spray is made from a mixture of herbal oils such as rosemary, citronella, and lemongrass, along with a few others. It's also DEET-free and is safe for children.
The company even touts it as a good way to keep mosquitoes away from pets. Mosquitoes can transmit heartworm via bites, so it's a good idea to protect pets when they're outside. Burt's Bees repellent smells nice, but the downside is that it's oily and some kids might not like the feel of it.
Citronella Candles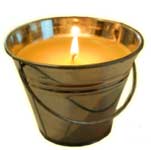 If you're concerned about applying any sorts of insect repellents to your children's skin, you can try to repel insects from the outdoor environment instead. One of the most popular ways to do this is by lighting citronella candles.
Citronella is an oil that can be derived from about 25 species of plants. Because it's a natural ingredient, it's also used in some topical repellents as well. Citronella candles emit a light, citrusy scent when burning that is unpleasant to many insects, especially mosquitoes.
The candles can be found in just about any hardware or home improvement store, and very often in drugstores and grocery stores as well. Torches that burn citronella oil are also available, and are popular alternatives to candles since they're refillable. Torches and candles are perfect for setting around the patio or backyard, or if you go to the cottage.
Mosquito Magnet®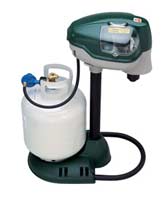 Candles and torches are nice and can add ambience to your outdoor living area, but they may not be the best option is you have small children or pets around. Not to mention, they don't do much good when it's a little windy outside, and the flames are blown out.
A good alternative is an all-weather mosquito trap, like the Mosquito Magnet. It's a device that emits carbon dioxide, which is known to be a mosquito attractant. When the mosquitoes, or other flying insects, approach the source of the gas, they are trapped in the Mosquito Magnet's tank.
The device pulls insects away from the activity area, keeping your barbecues, picnics, and outdoor play areas virtually insect free. This is, of course, not the type of contraption you want to take backcountry camping, but if you have a trailer or a cottage it might be a good investment.
The best way to get total mosquito control is to combine two or more of these methods. Wearing a personal repellent while running a trap will ensure you and your family can enjoy the outdoors without worrying about being plagued by mosquitoes.
See also…