There are several different types of camping spots and, depending on your location, your state may use unique names to describe them. For instance, a primitive camping spot – one with just a clearing for a tent and maybe a picnic table, is called an environmental camping spot in California and a tent site or Class D site, in Arkansas. When you are planning your camping getaways, this summer, it's important to know what kind of amenities to look for.
Full Hook-ups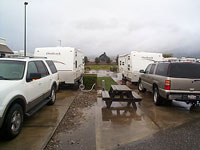 Camping spots billed as having full hook-ups are designed for RVs and provide electricity, water and a sewer connection. In addition, a full hookup site will be advertised as having 30 or 50 amps of power. A 50-amp circuit is usually required for larger RVs with multiple air conditioning units.
Other amenities, such as picnic tables, fire pits, a concrete parking pad and cable TV connections are sometimes included. Even in large national chains such as KOA, though, these extra amenities are completely random and should be confirmed prior to making reservations.
Electricity and Water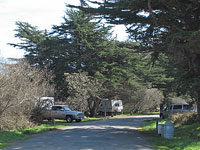 Much like a full hook-up site, a camping spot with electricity and water is for RVs and may include 20, 30 or 50 amps of power and other amenities, like a picnic table, fire pit and concrete pad. Almost unheard of in the West, electricity and water camping spots are common in state parks throughout the Midwest and South. There are a few state parks in the West with electrical and water camping spots, however, like Oregon's Joseph Stewart State Park.
Electrical Only
Also rare in the West, tent sites with electrical power are not uncommon in the muggy South, where fans and even small air conditioners make tent camping palatable for some. These sites are not specifically made for RVs, so they are usually smaller, 20-amp circuits.
Primitive
Primitive camping spots, as you might have guessed, have no water or electricity. Depending on the campground, however, they usually include a picnic table and a fire ring. Primitive sites are my favorite places to camp, because I don't have to worry so much about noisy RV generators, idling engines, or radios and TVs in the middle of the night.
Dispersed
Camping spots come in all shapes and sizes and they aren't limited to just organized campgrounds. You can make your own camping spot on most federal public land and some state lands. There are often restrictions on how close your camping spot can be to a road or a water source and regulations on campfires vary greatly, so it's important to check with the federal or state management agency for specific regulations pertaining to the area.
Camping is a great way to "get away from it all," but that can mean a lot of different things to different people. Fortunately, there are a lot of different types of camping spots to choose from, so there is sure to be one that will suit your style of camping.
See also…