Happy New Year! I hope everyone had a safe and enjoyable evening. While you are enjoying your coffee this morning, here are my first five Weekend Outdoor Reads for 2010. This week, I'm highlighting a hike in the San Gabriel Mountains, a contrast between what is happening with Arizona's and Georgia's state parks, a cool iPhone application for looking-up animal tracks, free camping at Dinosaur Monument in Utah and ranger-led snowshoe walks in Lassen National Park.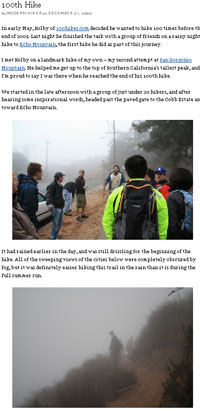 Modern Hiker – 100th Hike
Casey Schreiner, of Modern Hiker, and Kolby Kirk, of 100 Hikes, recently got together to celebrate Kolby's 100th hike of 2009 with a trip up Echo Mountain in Southern California's San Gabriel Mountains.
This is probably the one time during the year when the weather in Los Angeles reminds me of the Pacific Northwest and both Casey and Kolby have some stunning photos of the fog rolling through the hills and a great shot of the Los Angeles city lights glowing through the fog, from atop Echo Mountain.
Be sure to click on the pictures to see the full-size versions.
Arizona State Parks: A System on its Deathbed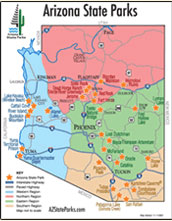 It's hard to believe that Arizona is going to shutter its state park system, but it certainly looks like that might happen. The Arizona Parks Foundation is heading up the fight to ward off this action and they have a lot of good information on their website about how you can help. All of the states are struggling with revenue during this recession and, in Georgia, volunteers are stepping up to help keep Georgia's state parks operating. This effort is being driven by the Friends of Georgia State Parks and they are recruiting people with specialized skills, including retired contractors and teachers, to fill jobs lost to budget cuts.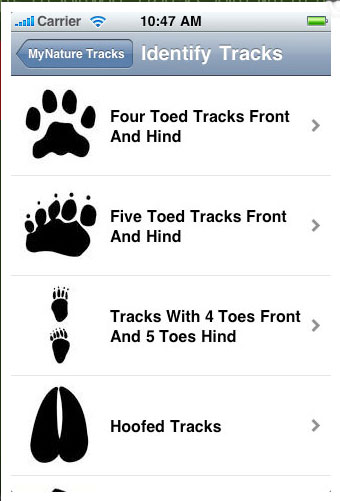 MyNature Animal Tracks is one of the more creative iPhone applications that I've seen, for the outdoors. It's a searchable database of animal tracks that includes a ton of multimedia content, like illustrations, actual photos and recordings of each animal's sounds, to help you identify any track that you are likely to come across in the backcountry. This would be a really great activity to get the kids involved with and MyNature Animal Tracks looks like a great tool for making it fun and interesting.
Winter Camping Free at Dinosaur National Monument
Park officials announced Tuesday that the Split Mountain campground, on the Utah side of the Monument, will remain open throughout winter. This is not for the timid – temperatures are in the teens and well into single-digits at night, but if you are looking for some winter solitude this deal can't be beat.
Lassen Volcanic National Park offers ranger-led snowshoe walks
Last weekend, Lassen Volcanic National Park began offering ranger-led snowshoe walks, for a suggested donation of just $1. These guided walks are offered each Saturday and Sunday at 1:30 PM through April 4th.