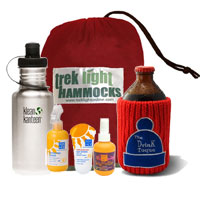 With Canada Day upon us and the Fourth of July just around the corner, I wanted thank all of the loyal CampingBlogger subscribers with a "summer fun bundle" giveaway this week. This month it is top-notch gear from Klean Kanteen™, Trek Light Gear™, Kiss My Face®, and The Drink Toque™; everything you need for a relaxing afternoon in the shade, sipping on your favorite beverage.
If you are new to CampingBlogger, I have regular giveaways to the email subscriber database and you can get in on the action by entering your email address in the subscription box on the sidebar to your right. There's no catch, no spam, no ads, it's just my way of saying "thanks" and it's a lot of fun, too. Our lucky April readers were Jill in Massachusetts, Ivonia in New York, Troyetta in California, and Ed in Ohio.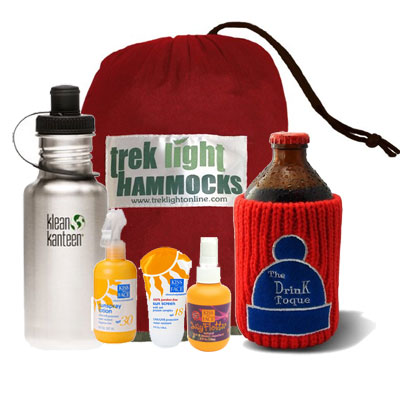 I'll be hooking-up two lucky readers this week with a great stainless steel water bottle from Klean Kanteen, an awesome hammock from Trek Light Gear, a little beverage insulation from The Drink Toque (in the Great White North, eh?), and some eco-friendly sunscreen and bug spray products (tested in 100+ degree weather last weekend – they work!) from Kiss My Face. All you have to provide is a peaceful setting, two trees, and your favorite beverage. Good luck, everyone!