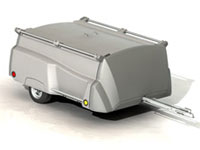 Let's face it, not everybody has a pickup truck or a monster SUV to carry the tent, sleeping bags, camp stove, firewood, and all of the other associated gear and gadgets that help make a weekend family camping adventure fun and enjoyable. There is a new utility trailer / bicycle-canoe-kayak rack /storage shed, called the Tow-N-Stow™, which just might be your ticket to family camping without giving up the economy car.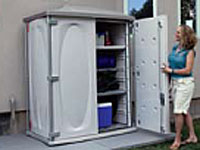 Did I say storage shed? That's right, when you are not using the Tow-N-Stow to haul your camping gear (or bark mulch for the backyard), just stand it up on its end and the Tow-N-Stow looks just like a standard yard-tool shed that you would find at any home improvement store. It's completely weatherproof, lockable and can even be equipped with shelves to hold all of your yard care tools. Best of all, the Tow-N-Stow doesn't take up any space in your driveway.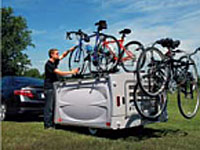 The Tow-N-Stow weighs about 400 pounds, so it's towable with just about any vehicle that can be equipped with a Class I hitch, and it can haul up to 1,000 pounds. It has cargo rails that accept all of the popular roof racks, so it's great for hauling bicycles, canoes, and kayaks, in addition to all of your camping gear and supplies.
I did a quick web search and found the Tow-N-Stow on The Home Depot® for $2,699 which is cheaper than the combination tent and utility trailers on the market (see Pop-up Tent Trailers), which run from about $4,000 to $6,500. Unlike the Stow-N-Go, though, you still have to figure out where to store a tent trailer.
See also…