A friend of mine took his family camping a few weeks ago and he told me that he's totally fed up with trying to keep things cold for a week using only a cooler and ice and asked me what I thought about the 12-Volt refrigerators that are on the market. Honestly, I haven't heard too many positive things about these, not to mention that then you have to deal with batteries and chargers and all of that associated overhead.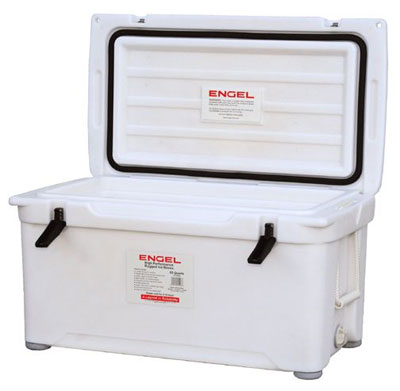 While I was looking around at the various 12-Volt refrigerator coolers, I stumbled across Engel® and their excellent looking line of rugged ice boxes.  It looks like their focus is on sport fishing, but these roto-molded ice chests feature a full two inches of polyurethane insulation and a freezer gasket in the lid for complete sealing.
Engel makes a 65-quart model that is dimensionally very similar to my 70-quart Igloo®, at 30" x 17" x 17". It's a lot heavier, at 28 pounds, but that extra weight is providing a lot of additional insulation and durability. Another thing that I like about the Engel are the positive-locking latches on the lid. One of the challenges I always face in making my ice last is that the kids never get the lid closed on my Igloo, because it just uses friction and you have to push on it hard to get the lid seated. Maybe I'm dreaming, but I think the kids might actually close the lid if there were latches on it.
Of course, all of these neat features come at a price. You can pick up a 70-quart Igloo for $60 to $70, but a 65-quart Engel will set you back a cool $200 to $260. I'm confident, though, that by following good ice chest practices (see How to Use an Ice Chest), like pre-chilling and using block ice, the Engel will easily keep your food and drinks cold for a week of camping.
See also…