A vacuum review on CampingBlogger, what? Yes, well, I didn't buy this with the intention of reviewing it – I just needed a decent handheld vacuum for the cars. When some friends of ours asked about battery-powered vacuums for their pop-up tent trailer, I showed them the Dyson™ and let them borrow it for a weekend. I've gone through a number of handheld vacuums over the years and they were all pretty pathetic at picking-up anything larger than dirt and dust. The Dyson is the first one I've used that can pick-up sand out of carpet and larger bits of junk, like wrappers and trash. And it looks cool!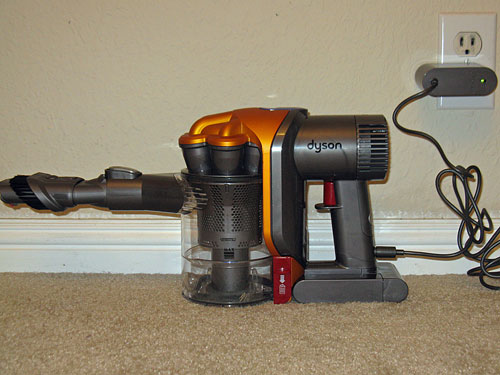 The Dyson runs off a 22.2V, 1,300 mAh, Lithium-Ion battery that I expect to last a lot longer than the NiCd batteries that I've burned through on previous handhelds. A smart charger keeps you from damaging the battery by shutting off, when the battery is fully charged. To give you a feel for the power of the Dyson motor, the DC31 only runs for six minutes on high power (10 minutes on regular power), even though this battery is about half the size of a laptop computer battery. Performance comes at a cost.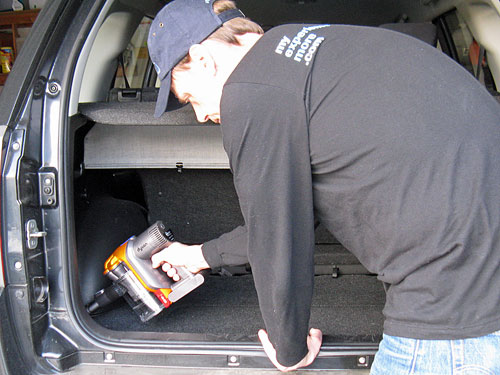 The Dyson weighs about three pounds, but it's well balanced and easy to maneuver. The dirt and debris goes into a clear canister that comes off via the red slide-latch that's visible on the side of the unit. There is also a foam air filter that protects the motor and that needs to be rinsed-out with water on a regular basis. I try to clean mine once a month, particularly during the summer when I am vacuuming the cars out, more often.
Like all Dyson products, the DC31 handheld is expensive, at $219. My hope, though, is that it will last a long time (also like other Dyson products) and work just as well three years from now, as it does today.
See also…