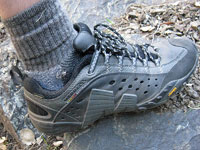 When I traveled back east to the Gore facilities in October (see The Gore-Tex Experience), one of the pieces of Gore-Tex® gear that I got to bring home was a pair of Merrell® Intercept shoes. At first glance, these were a lot like my older Merrell shoes that I've been flogging for about two years. After breaking them in for a few weeks, though, I noticed some significant differences.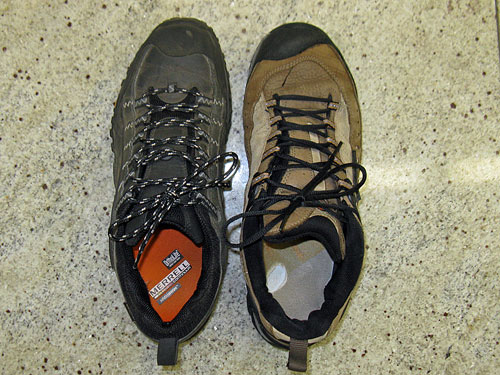 At first, I thought I had made a mistake and got a smaller size because the new Intercepts felt snug on my foot. On careful examination, though, the Intercepts have a much more athletic cut to them, than my older pair. The Intercepts fit much more like a running shoe or a cross trainer and this worried me, because I thought they would be hotter than my old pair.
After a month of hard use, including hikes in northern California, Catalina Island and Mexico, I've broken in the Intercepts and grown accustomed to the fit. In fact, the Intercepts actually run cooler than my older pair, which I attribute to the numerous vents running down the side of the shoe and the vented tongue. My older Merrells, with leather uppers, did not have any venting.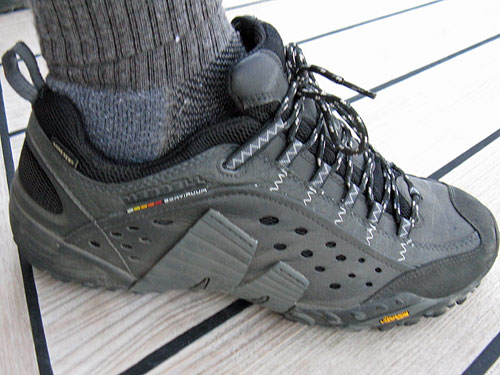 The vents are protected by a Gore-Tex bootie that is sandwiched between the internal construction of the shoe and it does a good job of keeping moisture out, while still allowing the shoe to breathe. It's not magic, though – if you wear cotton socks on a hike your feet will get damp from perspiration. With wool socks, though, my feet stayed completely dry.
The Intercepts seem to have more internal cushioning than my older Merrell shoes. Once I got accustomed to the snugger fit, I was happy with how comfortable these shoes had become and they no longer felt tight on my feet, even with thick wool socks. The Intercepts also have an aggressive sole lug design that sheds mud and clumpy dirt a lot better than my older pair. In short, I don't have any complaints with the Intercepts – they may take a bit of getting used to, but once you break them in you will never look back.
See also…