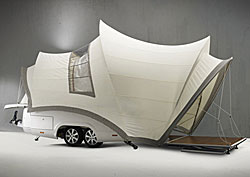 Several weeks ago, I started seeing stories about this stylish tent trailer designed by Belgian architect Axel Enthoven. The stories kept coming; Treehugger on November 2nd, Gizmag on November 3rd, Gadgettastic on November 4th – everyone is fawning over the pop-up that, "takes obvious cues from the Sydney Opera House in Australia." (Dvice, October 30th). Despite all of the excitement, there is scant little tangible information available on the 'Opera' tent trailer, other than its lavish accoutrements. Evidently, those are real hardwood floors and there is a wine cabinet in there, somewhere.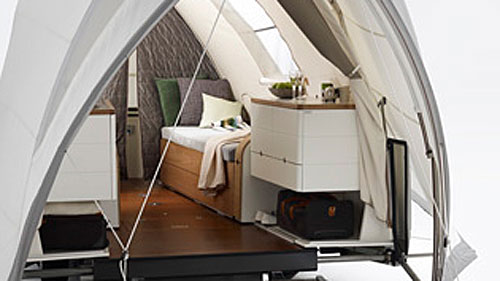 The Conestoga-like interior appears to have a small bathroom in the front, with narrow beds on either side. A stovetop on the left and a sink on the right frame the open back of the Opera.  It's unclear from the few pictures available, whether the rear of the pop-up closes for protection from the elements. One thing's for sure, with hardwood floors, a wine cabinet, hot and cold running water and a porcelain toilet, the Opera is not going to be one of the lighter tent trailers.
I'm a big fan of innovative products, like SylvanSport's 'GO' multipurpose trailer and the Coleman Switchback tent trailer, but the Opera strikes me as more of a design exercise than a serious offering designed for the backcountry. For something that appears so gargantuan on the outside, the interior shot of the Opera displays a surprising lack of useable interior space. The friends I have who were drawn to pop-ups are family campers who like the large bed platforms, which provide plenty of sleeping space. The Opera does not even have a convertible dinette bed.
The Opera is supposed to go into limited production in 2010, most likely in Europe although the iconic design is sure to tickle the fancy of at least a few people here in the States. It's sure to draw a crowd wherever it pops-up, which is likely the primary reason someone would purchase one.
See also…