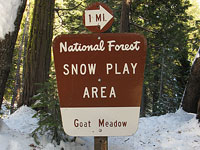 December is finally here and if you haven't finished your Christmas shopping yet, then you probably have big plans to hit the malls this weekend to get it finished. You can do yourself and your family a favor, though, by shopping online or squeezing that last minute shopping in during the week, so you're free to enjoy the weekend with your family, instead. Here are five great ways to get the family outside this weekend.
Play in the snow
Skiing, snowboarding, snowshoeing and sledding are just some of the fun winter outdoor activities that families can participate in, together. For some of us, this can involve quite a drive (which is never fun) so make it a mini-vacation and spend the weekend.
Visit a Christmas tree farm
I'm not talking about the grocery store parking lot; this year find a real tree farm in your area and let the family select and cut their own tree. This is one of those outdoor activities that's almost more fun in the rain and cold, so don't let the weather stop you!
Visit an aquarium
Last weekend we took the kids to the Long Beach Aquarium, in California, and we all had a great time looking at sharks, petting stingrays and barking at sea lions (yes, we did!). This is the third aquarium that we've taken our children too – they've also been to the aquariums in Newport, OR and Monterey, CA and we always have a great time.
Take a hike
If you're like us, there are probably a couple of favorite hikes that you've taken the kids on, this summer. Now that winter is here, those same hikes take on an entirely different look and can be interesting all over again.
Experience winter camping in your backyard
If you've ever been curious about winter camping, give it a try one night this weekend in your very own backyard. This is a great way to test your gear against the cold weather, without the risk of shivering all weekend in a cold sleeping bag.
I know the holiday season can be a hectic one and finding time to spend with the family can be challenging when everyone is running off in different directions shopping, but that's all the more reason to take a family break this weekend and do something together.
See also…