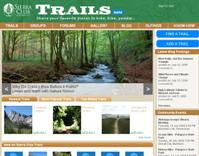 Something that tends to hold us back from camping in unknown areas is the fear of the unknown. What kinds of activities are available in the area? Will there be any interesting places to explore or hike to? The Sierra Club has launched a new interactive site that seeks to answer some of these questions for you, using actual user-content that is accurate, fresh and based on the actual experiences of outdoor enthusiasts just like you.

Sierra Club Trails offers a lot of useful information in the Forums, Blog and Know-How sections. You can even search for an existing group of fellow outdoor enthusiasts in your area, or start your own group. If you want to find interesting places to see around your campsite, though, the Trails menu provides you with some powerful query functionality.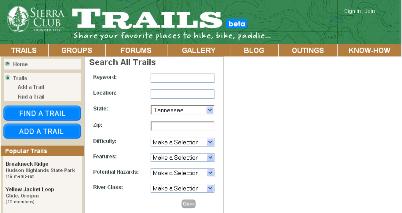 For instance, if you have an upcoming camping trip in Tennessee and you want to find some interesting sites to see, select the state from the drop-down list and click on the 'Go' button to see a list of hikes.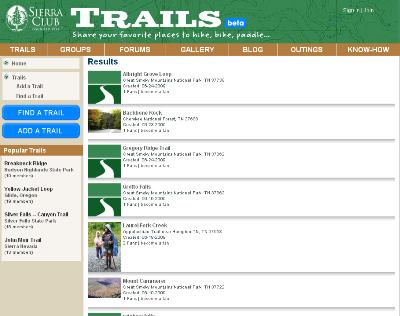 You can scroll through the list of hikes to find something that is close to your campsite and is something that looks like it would be interesting to you and your family.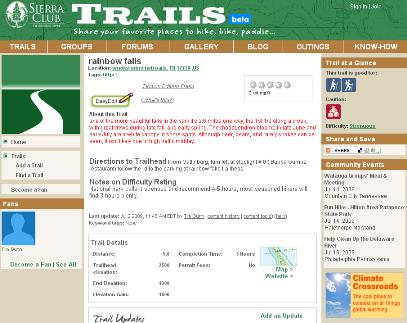 Clicking on any trail listing brings up detailed information about the trail, including a description, directions to the trailhead and the relative difficulty of the trail. This page is fully interactive and editable by Sierra Club Trails members (registration is free), so you can easily add your own information and comments upon your return.
It's this ability to edit and add new information about a trail that is the real power behind Sierra Club Trails. Instead of static information that is sometimes years old, the information on Sierra Club Trails can be continuously updated by anyone in the community. It's a great feature and it's one that can be a lot of fun when you realize that you can help others get the most out of a particular hike, just like your family did. It's easy to do and does not take a lot of technical know-how, so be sure to check it out and give it a try.
See also…