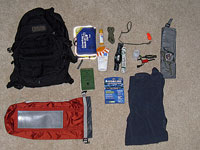 The "Ten Essentials" is a list of emergency items that is supposed to support you through an unexpected overnight stay in the backcountry and has been around for nearly 80 years. I was first exposed to the ten essentials as a Paratrooper in the Army, where the typical mission was 36 to 72 hours long and the only supplies we had was what we could stuff into small "butt packs," or hip packs as they are known in the civilian world.
Paratrooper standard load (late 80's to early 90's)
4 quarts of water
1 MRE (around 1,300 calories)
Waterproof poncho (for ground cover or shelter)
Insulation top layer (wool or polypropylene)
Flashlight and often a chemical light (glow stick)
Map, compass, and protractor
Knife (usually a multitool)
1 pair of extra socks and foot powder
Orange signal panel
There are a lot of similarities between what we carried, back then, and the original Ten Essentials list:
Map
Compass
Sunglasses and sunscreen
Extra clothing
Headlamp or flashlight
First aid supplies
Firestarter
Matches
Knife
Extra food
You will find numerous variations on the Ten Essentials, but the themes are the same; hydration and nourishment, warmth, navigation, and signaling. It is important to note that the Ten Essentials is not something reserved for multi-day backpacking or mountaineering. These items are small enough and light enough that they can be carried anytime you venture into the backcountry, even if it's for a short hike.
My carrier-of-choice is a CamelBak® hydration pack that holds just under a gallon of water and provides plenty of room for my essential items, along with anything else the kids and I might need on a hike, like lunch! Here are some of the "essential" items that I always carry with me, in my hydration pack.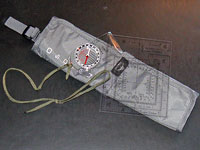 Map, compass and protractor
There is really no excuse for not having a topo map with you, since you can download them for free from the US Forest Service (see How to Find Topo Maps). I find a map and compass to be infinitely for useful than a GPS receiver, for navigation, although GPS certainly has its place as a valuable tool – just not on my list of "essentials."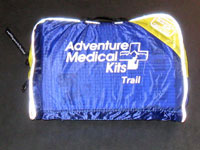 First aid kit
AMKs Trail model has just about everything a parent needs to handle backcountry emergencies, except for an ACE bandage. It's about the size of a thick paperback book and, ironically, it contains an excellent book inside, called The Comprehensive Guide to Wilderness & Travel Medicine.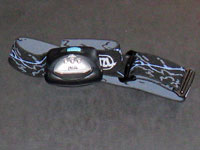 Headlamp
I'm part of the flashlight generation, but the first time I tried a headlamp it was all over and I've never gone back to the flashlight again. The Petzl ® TIKKA® is a little less than $30 and has three LEDs that provide plenty of light, while leaving both hands free.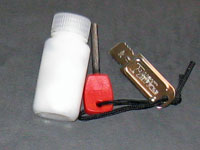 Fire starting kit
I carry a small magnesium fire starter and a bottle of cotton balls smeared with petroleum jelly, for starting fires in emergencies. The cotton balls burn long enough, and hot enough, to light even damp kindling. For more information, see How to Start a Fire with Magnesium, Cotton and Petroleum Jelly.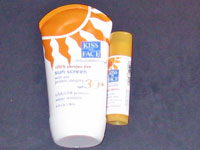 Sunscreen
This is mostly for the kids, although lathering them up with sunscreen often reminds me to use some too, which is probably a lot better for me than the numerous sunburns I've endured over the years. The Kiss My Face® sunscreen holds up well to perspiration and water.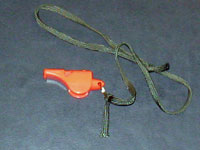 Emergency whistle
If you are ever in the position of having to direct a rescue team to your position, you will be able to truly appreciate how much further the sound from a whistle travels, than your voice (no matter how loud you try to shout).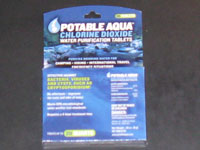 Water purification tablets
A gallon of water can only go so far, if you are stuck in the backcountry overnight. I don't pack the entire box, but I tuck six tablets into the first aid kit, which is enough to refill my hydration pack twice.
See also…