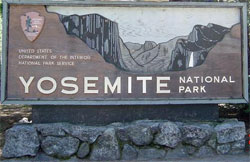 In honor of Veterans Day, Secretary of the Interior Ken Salazar has announced that parks and areas managed by the department will not charge entrance fees.
"Visitors to national parks are invited to take a day to honor and reflect on what our service men and women have done to maintain our freedom and keep peace around the world," Salazar said.
If you ever needed an excuse to call in sick tomorrow, this is it. The kids have Veterans Day off, but for many of us in corporate life it is just another business day. Here in Silicon Valley I am fortunate enough to have numerous parks to choose from, including Muir Woods (entrance fee $5), the San Francisco Maritime Museum ($5) and even Yosemite ($20) is only a three-hour drive. You might be surprised to discover how many Park Service properties are in your area.
The National Park Service has a great website (www.nps.gov) that allows you to easily locate Park Service properties by state. It also provides a wealth of information about each site, including directions, hours of operation and entrance fees. All of these sites are waiving entrance fees on Veterans Day, though, so grab the kids and go explore a bit of our history or just take a walk through the woods!
See also…