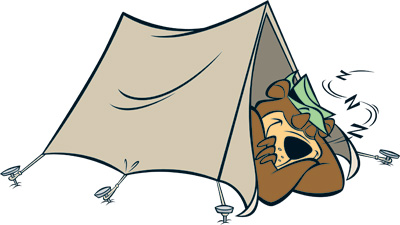 There are several different types of camping tents on the market today, and each one has its pros and cons. Here's an overview of common camping tents you can get at most outfitters and department stores.
A-Frame Tents
A-Frame tents are probably what people typically think of when they envision a tent, though there have been some improvements to the design from those you see in Yogi. For one, they typically have four sides and a floor to keep, among other things, animals out.
A-frames are versatile tents, being relatively easy to set up, having a decent amount of head room near the center, and being resistant to wind and weather. They tend to be on the smaller side and it's not common to find such a tent that can handle a family of 4-5 easily. However they are good for campers who need a tent that works well in many environments.
Dome Tents
Dome tents are typically what I think of when I think of camping tents. This kind of tent is perfect for family and group campers as it provides a large space area, good head room and at times have extra spaces or porches that can serve as a gear and equipment storage room.Compared to other styles, dome tents are sturdy enough to withstand certain conditions such as snow, plus they're free standing so you can move them easily, in case you find a tree root under with you back. Dome tents are very weather resistant and can come in rather large sizes.
Typically dome tents come with four or six supporting poles. Four pole tents allow for more efficient use of space, but they can be susceptible to heavy weather. Six pole tents have a hexagonal shape, which can be used efficiently if you store your gear to the sides, and are structurally more sound, but come at a weight and completity costs.
Pop-Up Tents
Also referred to as portable tents, this style is ideal for campers who are bothered by the idea of having to carry around a heavy baggage when they camp. Pop-up tents are collapsible, lightweight tents that can be simply carried on a camper's back. The frame is composed of flexible hoops that literally make the tent "pop up" when unpacked. This means there probably isn't an easier tent to set up, but the downside is it's not suitable for high winds or heavy weather due to the tent's flexiblity. It's often bought as a starter tent, or as a tent for children to stay in.
Tunnel Tents
Tunnel tents offer the best stability when properly pitched into approaching winds. Correct positioning of this tent is very important because when pitched the other way, it become less steady. Normally made of two or more poles running the width of the structure, this sort of shape brings a much enhanced interior space and head room than other styles of tents. However, the overall strength and durability of tunnel tents will depend on its size, poles and quality of materials; hence always choose a reliable manufacturer when getting one.Tunnel tents are usually smaller in size, for 1-2 people, and are commonly used where there are strong prevailing winds. They are compact and lightweight, and they are frequently used by backpackers.
Hoop Tents
This tent is one of the most compact and lightest style available on the market today. Hoop tents have curved poles at each end and will need guy ropes be tied with pegs and staked carefully in order to retain its shape, as well as maintain its stability. Normally, they incorporate three arched frames to offer more interior space and head rooms. The drawback of hoop tents is that they cannot withstand extreme weather conditions and can rattle or flap in the wind if not staked correctly.
There are single hoop tents and multi-hoop tents available these days. Single hoop tents generally are for 1-2 people tops, while multi-hoop tents are available in a wide range of sizes. Typically storage space and headroom especially are limited with these tents.
Cabin Tents
Cabin tents, sometimes called frame tents, are often among the larger of the commonly available tents and are frequently used in family camping. This style of tent offers enough space and facilities for group/family campers.
Due to their heavy weight, large size, and frame construction, cabin tents usually take longer to set up and must be staked properly to avoid fabric sagging that can lead to water infiltration. Additionally their high, flat profile can cause them to fall over in the wind if you don't stake them down well enough. However they offer more room than most styles of tents, particularly near the edges, and often are tall enough for adults to stand in. Plus most models come with walls that act as dividers, allowing this tent to have different "rooms." These tents are popular family camping tents and are great if you plan on staying in the same space for a while.
Picking a Tent for Your Needs
Picking a tent that's right for you depends on what you plan on doing with it. You may find that there you need multiple tents for your outdoors activities – for instance a cabin tent for a week-long vacation with family and friends and a tunnel tent for backpacking trips. But one thing to remember to check closely is the size. Tent manufacturers often claim a tent to be, for example, a four-person, but actually cramming four people in it would be enough to make a sardine claustrophic. When they claim a tent is for four people, they assume all your gear is being stored in the car, you don't roll over in your sleep, you definitely aren't using a cot, and you really like being close to the people you're with.
A rough rule of thumb for me anyway is divide the manufacturer's claim by 1.5-2 to get a number that can comfortable fit. Also, if the store has a tent set up, try to get your camping crew to lay down in it, or take a tape measurer to the store and plot out the floor area listed on the box to see how much space you really have to work with. Don't forget the sloping walls with dome and A-frame tents in particular!
What type of tent do you own? Do you have any tips or suggestions on getting a tent?
More Tent Shopping and Selection Resources:
Affordable Family Camping Tents